Topshop billionaire's £20m 'garden party'

Topless dancers, a 35ft granite Buddha, 30 bottles of vintage bubbly for each guest, and cabaret courtesy of George Michael on a private island ringed by armed guards. Just another common or garden birthday bash for Topshop's Philip Green.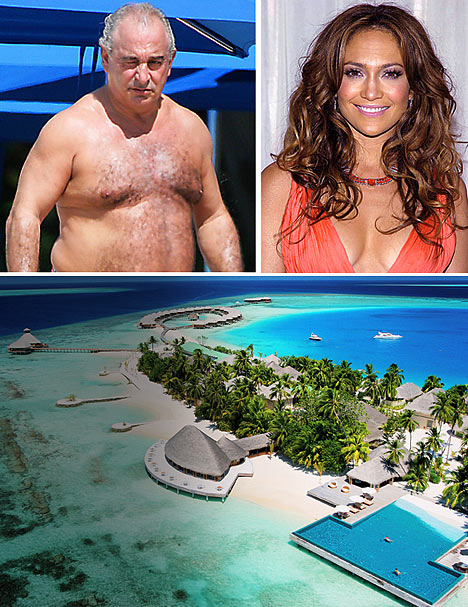 The two great deities sat facing one another, each a colossus, gazing serenely down at the mortals in their midst. At one end was a solid granite statue of the Buddha, 35ft-tall, smiling benignly over the party guests as they drank vintage Pol Roger champagne and helped themselves to lobster thermidor.
At the other end was Sir Philip Green, resplendent in a crisp white linen Thai tunic trimmed with silver brocade. If the Buddha was serene and mysterious, Sir Philip was rather more ebullient.
The billionaire tycoon was in fine fettle hosting his most jaw-droppingly showy party yet - a five-day extravaganza on a tropical island which he has taken over in the Maldives for himself and 100 friends to celebrate his 55th birthday. It is impossible to say just how much it has cost, but £20 million cannot be an outlandish estimate.
Some 500 cases of vintage champagne - that's 3,000 bottles, 30 per guest - caviar, lobster; dancers flown in from around the world; fireworks shooting upwards to form the shape of palm trees before melting into the night sky; supercharged searchlights which seemed to touch the stars.
The star turn is George Michael, who is believed to have received £750,000 to go on stage. And, if the rumours are to be believed, the American singer and actress, Jennifer Lopez.
The birthday boy surpassed himself this time, and it wasn't even a major milestone.
But while the guests guzzled champagne and danced the night away in paradise without a care in the world, the Maldivian islanders were not quite so taken with the spectacle.
The construction of the Buddha, in particular, has troubled the locals, who are devout Muslims.
"The islanders are obviously used to tourists, and Christianity as well, but they are not used to such overt signs of Buddhism and this has unsettled them," said one local source.
"The blocks of granite were shipped over from somewhere and the locals had to construct the Buddha with their own hands, which they were not at all happy about, but they didn't want to complain."
It does make you wonder: if you want to have a Thai-themed evening with Thai attire, pad Thai noodles and a giant Buddha on display, why not have the party in Thailand? But that would probably be cheaper than this lavish playground of the rich, and you certainly can't accuse Sir Philip of hanging on to his pennies.
As well as the controversy over the Buddha, there has also been consternation among the locals at the more decadent displays over the past few days, in particular a troupe of topless dancers.
For while going topless isn't banned in the Maldives, it is frowned upon by the Muslim community and all tourist literature asks holidaymakers to refrain from removing their tops.
A source said: "The staff were told before the party that they might see things that might shock them but they must not take offence.
"The women who drive the buggies around the island were told that if they came across any of these topless women, they must avert their eyes to protect their modesty, turn the buggy around and go in the opposite direction."
There are dark mutterings among the deeply suspicious Maldivians all over Baa Atoll (there are 19 atolls stretching across 800km) that Sir Philip's birthday party has brought a curse to the region north of the capital, Male, where the Soneva Fushi Resort stands on the island of Kunfunadhoo.
But Sir Philip, who owns the Arcadia fashion group comprising Topshop, Bhs and Miss Selfridge among others, and employs 38,000 staff, is oblivious to such talk. Having received a £1.2 billion dividend in 2005 - adding to the £4.85billion fortune he was estimated to have before the windfall - he wanted to make sure this party was even more monumental than his 50th.
On that occasion he flew out 200 friends to an exclusive resort in Cyprus for a £5 million toga party. Green was dressed as the Roman Emperor Nero in an embroidered toga and gold laurel leaves. Rod Stewart - £1 million for a 45-minute set - and Tom Jones provided the entertainment.
As a surprise, his wife Tina, 57, hired Michael Aspel who appeared with his red This Is Your Life book to look back at the entrepreneur's life. Her present to him was a solid gold Monopoly board, made by Asprey's to represent all his real High Street assets.
There was even a follow up-party in Monaco to watch the video of the Cyprus beano.
There have been other flash dos, such as the barmitzvah he threw for his son Brandon on his 13th birthday in 2005, which reportedly cost £4million, and was held in one of the swankiest hotels in the Cote d'Azur. The family had their own synagogue built in the grounds.
Sir Philip and his wife Tina, who were married in 1990, definitely enjoy the finer things in life. They own an £8 million villa in Monaco overlooking their £7 million yacht (being resident in Monaco cuts down the tax bill considerably, of course).
They have a private jet and 'his and hers' Bentleys. His office is a beige and black penthouse in the West End where he works from 6am to 10pm weekdays. His weekends are spent in Monaco often playing tennis with Prince Albert.
And besides, there was another cause (or excuse) for celebration this week - the knighthood he received last year. If you've earned all this money by old-fashioned graft - and Sir Philip is a workaholic - why not spend it?
So it was that Green, who was raised in Croydon and North London by his electrical retailer father, Simon, and mother, Alma - who owned and ran a launderette chain - decided to take over Soneva Fushi.
Villas cost up to £2,000 per night, and Green has hired the entire resort for five days. The resort motto is: 'No news or shoes - you're here to chill out.'
But over the past week, things have been frenetic on the island. More than 500 people were brought in to deal with the construction of Buddhas, pagodas and three stages. Hundreds more have been working on the catering, flowers flown especially into the Maldives, security and fireworks.
Sir Philip wanted the location to be a surprise for his guests and told them simply to pack their beachwear and go to Stansted Airport on Tuesday evening.
There has been much speculation as to who was on the guest list. Kate Moss, Simon Cowell and Jemima Khan were mentioned, but did not show up.
Elizabeth Hurley and her husband, Arun Nayar, are believed to be honeymooning in the Maldives after their own marathon wedding celebrations, but there was no sign of them, either.
The actress Jenny Seagrove and her theatre producer partner, Bill Kenwright, are among the guests along with former model Jilly Johnson. The Scottish millionaire Sir Tom Hunter is here; Formula One boss Eddie Jordan is also believed to be on the list of attendees.
But if A-list celebrities were invited, they appear not to have been tempted by the freebie to beat all freebies.
For when the three private jets carrying the guests arrived at Male airport on Wednesday morning, there were hardly any famous faces to be seen. The 'VIPs' - most of them pushing Louis Vuitton luggage - were then taken by seaplane to the resort.
That night, Sir Philip treated his guests to a pre-party bash with a performance by a group of Indonesian dancers flown in especially, as well as traditional Maldivian dancing by performers from another island.
On Thursday, as Sir Philip's guests sunbathed on the terraces of their luxurious villas, the final preparations began. Checks were made on the three concert stages - yes, three - on the northern and southern tips of the island, and in the middle of the resort.
At a right angle to the side of the main stage stood the largest Buddha, on either side of which were two pagodas. Two smaller Buddhas were erected nearby.
Vases filled with exotic flowers flown in from some far-flung destination were placed all over the island. Meanwhile, teams of chefs were busy in the kitchen. There was one team for the seafood buffet, another for the Thai buffet.
A separate team put the final touches to Sir Philip's 8ft by 4ft dark and white chocolate and cream birthday cake, thought to have been inscribed simply: 'Philip Green 55'.
More guests arrived by seaplane including a group of men in white linen suits. A fevered rumour began circulating that Britney Spears was on the island, but this was not confirmed.
According to one source, J-Lo was seen wandering around the resort surrounded by her burly entourage. It's thought she was planning to give a performance last night.
Moored a little way out were two 100ft sailing yachts and a 150ft motor yacht. You could smell the money.
It is one of those strange paradoxes that a man determined to stage one of the most ostentatious spectacles on the planet should be seemingly obsessed that the details remain a secret.
Thirty security cameras were installed around the island on Thursday; three security boats patrolled the island.
Aboard one of them was a high profile police chief, a sort of Sir Ian Blair in shades and funky T-shirt.
The staff on the island were also tightly controlled. The stage crew and security staff all wore T-shirts with a 55 logo, and staff were told they must not reveal a thing, and to switch their mobiles off so no contact could be made with the outside world.
The main party of the week began at 8pm on Thursday, when spotlights - powered by generators shipped in for the occasion - were turned on, stretching up and out for miles across the Indian Ocean.
All the guests - men included - wore the same white linen Thai tunics, embossed with the 55 logo. The number 55 was also emblazoned across the stage.
You would have to have been really dim - or the worse of all that champagne - to forget which birthday Sir Philip was celebrating.
There were more dancers - including the topless ones who had affronted the modesty of the locals - more Pol Roger bubbly, caviar, lobster any which way you could choose. Also on the bill was heartthrob singer Ricky Martin.
George Michael came on last of all, singing old favourites such as Careless Whisper and, finally, Freedom, which seemed to go down very well with the mostly 30 and 40-something guests.
Sir Philip is said to have issued strict instructions that George wanted to leave the island as soon as he came off stage, but then these days he is a bit of a recluse.
After George's performance, Stevie Wonder's Happy Birthday To You came blaring through the speakers and Sir Philip's enormous birthday cake was wheeled to the front of the stage.
Shy and retiring are not words in this man's vocabulary. Once he had cut the cake, the fireworks began, launched from two barges anchored a couple of hundred yards from the shore, and greeted with gasps of admiration.
Then it was time for the disco and, loosened up by all the free booze, most of the guests took to the dance floor and partied until well after 4am.
The following day the revellers stayed in bed till late, emerging around lunchtime to get ready for Sir Philip's bikini party in the afternoon.
Again, the bikini dress code is felt to be in bad taste by the locals - due to their Muslim beliefs. Happily for them, Sir Philip and his pals are due to fly back to Britain tomorrow.
What they and everyone else would now like to know is: what on earth is he going to do with his giant granite Buddha? Not even his office is big enough to accommodate this.