GEORGE MICHAEL STARTS COMMUNITY SERVICE
British pop star GEORGE MICHAEL has started his 100 hours of community service following his May (07) conviction for driving while unfit. The former Wham! star was arrested last October (06) after he was found slumped at the wheel of his car in central London.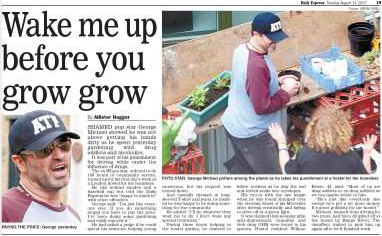 During the court case, Michael pleaded guilty to driving while unfit after police claimed he had a cocktail of drugs in his system including GHB and cannabis at the time of his arrest. When he was sentenced in June (07), he was ordered to perform 100 hours of community service and was banned from driving for two years.
On Monday (13Aug07), Michael turned up in a chauffeur-driven car to a London homeless hostel and spent three hours helping workers in the garden.
Michael says, "I'm just like everyone else. If you do something stupid, you have to pay the price. I've been doing some gardening and really enjoyed it. "I'll do whatever they want me to do. I don't want any special treatment."