TWO BECOME WHAM!
George Michael writes Spice Girls Christmas hit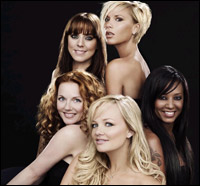 IF their comeback wasn't already the biggest thing ever, it is now.
I hear the SPICE GIRLS are in talks with GEORGE MICHAEL to pen them a Christmas single.
I can reveal that POSH, GINGER, SCARY, SPORTY, BABY and now OLD SPICE, will take on this year's X Factor winner in the race for the festive top spot. My music insider told me: "The girls are thrilled to be in talks with George.
"He's one of the most talented songwriters around and it will make their comeback bigger and better than ever."
And they're going to need to add some WHAM! to their Girl Power to overcome the X Factor challenge. Last year, winner LEONA LEWIS took the winter top spot and the year before that it was previous winner SHAYNE WARD.
But George has topped the charts ten times and the girls have scooped nine No1s, three of those at Christmas.
My insider added: "This year's Christmas No1 is a two-horse race and is impossible to call. The X Factor looks unstoppable, and the show's been getting some really good ratings too."
I can't wait for things to hot up. It will see two of Britain's top music svengalis go head-to-head.
In the Spice Girls corner is SIMON FULLER and over in the X Factor camp is SIMON COWELL.
Well, let the battle commence chaps.